Decisiv SRM Product Vision & Strategies
Most of you, our fleet and asset manager partners, are familiar with Decisiv's products and services, and with our partners' products and services. You may already be using the Decisiv SRM platform, or you may have visited the Decisiv Marketplace. 
If we were able to use one word to describe our product vision and strategies going forward, it would be "transformative". The entire Decisiv team is committed to expanding the value and scope of the SRM Ecosystem and to continue to provide solutions that drive the evolution of asset service management. We are here to help your business shift from reactive to proactive, from paper to digital, from unplanned breakdowns to planned service. 
There are four primary areas of focus that make up Decisiv's product strategy: asset performance, service experience, Ecosystem solutions, and asset data.
Asset Performance
Optimizing asset performance requires a reduction in the number of repair and service events as well as a reduction in service event costs. For any service event you do have, it's also important to reduce the amount of downtime. Fewer events, lower costs, and lower service downtime all lead to greater performance.
Choosing the right asset and the right components for the job is necessary for the asset to do what it was engineered to do. It's also important for the maintenance plan you design for the asset to match that purpose. The more reliable an asset is, the easier it will be to predict when service is needed and you'll have fewer unexpected repairs.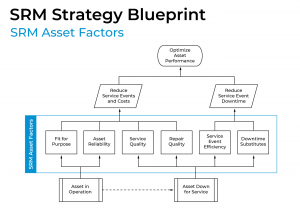 The figure above illustrates the factors in SRM leading to optimizing asset performance. You'll notice that Decisiv's SRM strategy accounts for service planning while an asset is down for repair and while an asset is in operation. Our Case solution helps manage service events while an asset is down, and our new Sentinel solution helps with a fleet's service planning process while assets are in operation.
Based on the SRM Asset Factors listed above – Fit for Purpose, Asset Reliability, Service Quality, Repair Quality, Service/Repair Event Efficiency, and Downtime Substitutes – Decisiv  has primarily focused on repair quality and service/repair event efficiency.  These contribute to both reducing repair/service events and costs and reducing repair/service event downtime.  With over 19 million service events on the SRM platform growing at a run rate of about four million service events a year, Decisiv has amassed enough service event data to begin to address other factors like asset reliability and service quality, as well as begin to provide insights and algorithms to drive towards "perfect" repair quality and "optimal" service efficiency through intelligence-assisted decision support and automation.     
Service Experience
Improving the quality and efficiency of a repair event, coupled with increasing a customer's confidence and satisfaction, are all factors that optimize the service experience. Additionally, as Decisiv is the expert on SRM best practices, Decisiv provides the platform to implement them.
Decisiv focuses on customer and asset knowledge and service process expectations and visibility to increase service event quality, efficiency, and customer confidence and satisfaction. This comes back to the data we aggregate and how it helps drive the process by providing the right data to the right people at the right time, and enabling them to take action on it. This includes, for example, customer information such as communication and approval preferences, negotiated prices, pre-approvals, payment processes, and more. Asset information can include recalls, campaigns, recommended operations, maintenance, inspections, and repair history. Looking to the future, Decisiv is expanding our focus on digitization and automation of the service process, leveraging customer preferences and asset data to further drive both efficiency and satisfaction.  
Ecosystem Solutions
One of Decisiv's key differentiators is the extent of the integration among our many SRM Ecosystem partners: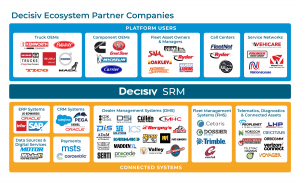 We have deep integrations with business systems, fleet maintenance systems, and telematics. This is one of our core capabilities and we're looking to continue our integrations through continued Application Programming Interface (API) development and licensing and new strategies around our Decisiv Marketplace. 
Customers and partners can bring their own applications to the SRM Ecosystem via API integration with the Core Services Platform.  They can use Decisiv's Key Design System to build user interfaces for applications with a similar user experience provided by Decisiv's applications.  Beyond user applications, the APIs enable integration of customer and partner technologies and systems including telematics, diagnostics, vehicle and equipment data, repair time lookups, part price & availability, work/repair orders, maintenance, warranty, OEM recalls and campaigns, payment processing, and more.  
As a valued Decisiv SRM Ecosystem partner, we encourage you to participate in the Marketplace by promoting your services and solutions across our ecosystem, which includes over 7.5 million assets on the SRM platform, nearly 5,000 service locations, and nearly 75,000 fleet owners and managers. The Ecosystem will continue to expand in scope and will drive the continued expansion of the Decisiv Marketplace between stakeholders – especially between asset owners, managers and operators; service providers; and OEMs. 
Asset Data
Asset lifecycle data is at the foundation of Decisiv's product vision and strategies. It enables us to ask this question of ourselves, our customers, and our partners:
"If you could know the current state, location, usage history and plans, maintenance history, and maintenance plans for every part of every commercial asset, how would you transform your service management and compete differently?"
This data is essential for driving the factors that optimize asset performance such as asset reliability, repair quality, service quality, event efficiency, customer knowledge, and downtime services and substitutes. Understanding the complete set of data provides a framework for data Decisiv provides today and will continue to add to the Ecosystem and SRM platform through new partnerships and integrations.    
If we drive asset performance, optimize the service experience, deliver Ecosystem solutions, and underpin all of it with authoritative asset data, we will have achieved our vision of transforming the way commercial assets across the globe are acquired, managed, and serviced.